Escape From The Cosmic Abyss
Hello!
Today's devlog is about character art development! It hasn't been implemented on the game yet but take a look at the progress for the astronaut character:

To the left we have the current art, which are just some proportions I arrived at after studying the character with some sketches. It was enough to get the game going so far, and it was great to experiment and validate the character size in game. The middle was the digital sketch already taking into consideration how to subdivide the characters parts for further animation. And finally on the right the completed art.
I'm using the same workflow I found for the backgrounds, that was the topic of the previous devlog, that is: I make the basic color shapes, add some line details inside the shapes, than shade with flat colors and soft gradients on some areas.
Then I exported all the parts as individual pngs, which you can have an idea below: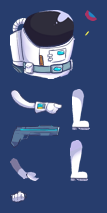 Finally, I imported it all into dragonbones, a so far opensource and free 2d skeletal animation software. I've been getting a dialog everytime I open the software with a message that it will become paid, but so far if you create a free account you can use it fully.

It was my first time animating with bones and meshes and it was really cool, and a real time saver! I turned all the limbs into meshes and could animate them to great results, as you can see in the following gifs: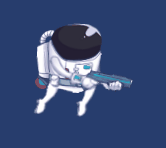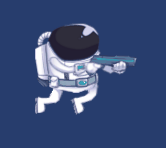 Rising, Falling, and the complete loop with transitions in between
I'm really liking the end results and can't wait to implement in the game, but before that comes enemy art! It's time to dive in those tentacles and make them menacing!
I hope you liked this update, and see you next week, with enemy development, and hopefully, a new version of the game with all this implemented!
Get Escape From The Cosmic Abyss